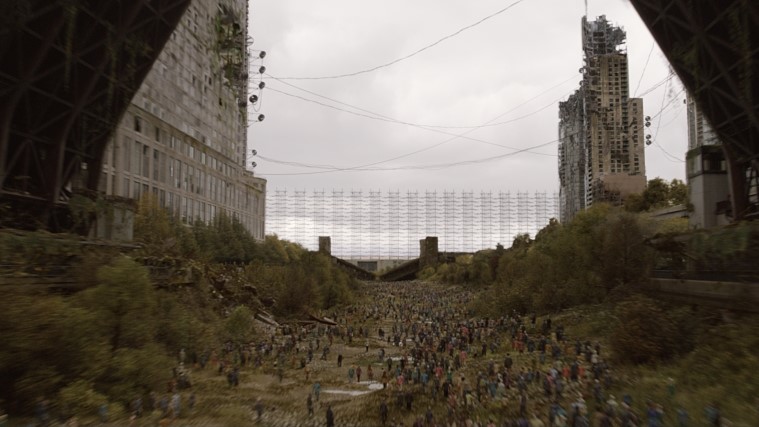 Milk created the visual effects for the epic opening and closing sequences of action sci-fi feature film "The Divergent Series: Insurgent" for Summit Entertainment (Lionsgate). Milk created crowd and full CGI environment work for both shots which total one and a half minutes on screen.
Milk created the opening fly-over view of a devastated future Chicago which features war-torn buildings and debris. The shot necessitated fully replacing the ground plane with CGI assets created by Milk – debris, vegetation, the dry riverbed and several hero CGI buildings. The Milk team worked with production's VFX Supervisor, James Madigan, to fully replace various buildings and interiors in order to show a complex level of destruction. Milk also produced additional CGI assets including turbines and cables, and its R&D team created tools to produce the dramatic effect of weathering and ivy crawling across the city.
In addition, Milk generated a crowd of 250 digi-double people, digital flamethrowers and trucks for the 'Abnegation' area, which had to seamlessly match the subsequent drama shots.
The Milk team also substituted the Barclay Tower with the 'Erudite' Headquarters and fully replaced the distant environment behind it with a deserted landscape bordered by the city wall.
The focus of Milk's work in the closing shot was the dramatic aerial sequence featuring crowds of people in their factions moving across the landscape, as the camera travels up a dried-out riverbed. The biggest challenge was creating a digi-double crowd of 50,000 people, while ensuring each faction was accurately represented. The full integration of software Golaem Crowd in Milk's pipeline made possible the task of choreographing this vast throng. Milk overcame the challenge of rendering the complex CG assets – grass, trees, ivy, flowers, rocks and CG crowd – by converting them into Arnold scenes, which allowed for rendering around 5 billion polygons per frame in under an hour.
Milk's VFX Supervisor Nicolas Hernandez worked closely with Double Negative to seamlessly blend their work in the closing shot. Double Negative created and tracked the cityscape, and Milk built the CGI dry riverbed and bank.
Will Cohen, CEO and Founder of Milk VFX said, "One of the key challenges on "The Divergent Series: Insurgent" was delivering these massive travelling shots that book-ended this hugely successful blockbuster in a comparatively short amount of time. Milk's crowd effects pipeline, which incorporates Golaem Crowd and rendering in Arnold, made the task smoother and we are very proud of the results. "
Director
Robert Schwentke
Producers
Douglas Wick, Lucy Fisher & Pouya Shabazian
Production Companies
Red Wagon Entertainment, Summit Entertainment & Mandeville Films
Distributor
Lionsgate
Milk VFX Supervisor
Nicolas Hernandez
Milk VFX Producer
Jenna Powell
Release Date
11 March 2015
We all made this happen…
This team of amazing people made this happen. Join our lovely community to work on the most exciting projects with our amazing people.
Jenna Powell
Nicolas Hernandez
Sara Bennett
Mariangela Suma
Collette Nunes
Sam Lucas
Henry South
Amy Felce
Neil Roche
James Reid
Benoit Leveau
Marc Joubert-Nederveen
Jason Brown
Stefan Brown
Gavin Platt
William Correia
Joe Tarrant
Nick Webber
Dominic Carus
Luca Zappala
Jan Schubert
Adrian Williams
Bastien Mortelecque
Darren Byford
Turlo Griffin
Simon Wicker
Henning Glabbart
Matias Derkacz
Pedro Andrade
Tomi George
Jay Murray
Jenna Powell
Nicolas Hernandez
Sara Bennett
Mariangela Suma
Collette Nunes
Sam Lucas
Henry South
Amy Felce
Neil Roche
James Reid
Benoit Leveau
Marc Joubert-Nederveen
Jason Brown
Stefan Brown
Gavin Platt
William Correia
Joe Tarrant
Nick Webber
Dominic Carus
Luca Zappala
Jan Schubert
Adrian Williams
Bastien Mortelecque
Darren Byford
Turlo Griffin
Simon Wicker
Henning Glabbart
Matias Derkacz
Pedro Andrade
Tomi George
Jay Murray
Jenna Powell
Nicolas Hernandez
Sara Bennett
Mariangela Suma
Collette Nunes
Sam Lucas
Henry South
Amy Felce
Neil Roche
James Reid
Benoit Leveau
Marc Joubert-Nederveen
Jason Brown
Stefan Brown
Gavin Platt
William Correia
Joe Tarrant
Nick Webber
Dominic Carus
Luca Zappala
Jan Schubert
Adrian Williams
Bastien Mortelecque
Darren Byford
Turlo Griffin
Simon Wicker
Henning Glabbart
Matias Derkacz
Pedro Andrade
Tomi George
Jay Murray
Jenna Powell
Nicolas Hernandez
Sara Bennett
Mariangela Suma
Collette Nunes
Sam Lucas
Henry South
Amy Felce
Neil Roche
James Reid
Benoit Leveau
Marc Joubert-Nederveen
Jason Brown
Stefan Brown
Gavin Platt
William Correia
Joe Tarrant
Nick Webber
Dominic Carus
Luca Zappala
Jan Schubert
Adrian Williams
Bastien Mortelecque
Darren Byford
Turlo Griffin
Simon Wicker
Henning Glabbart
Matias Derkacz
Pedro Andrade
Tomi George
Jay Murray
Jenna Powell
Nicolas Hernandez
Sara Bennett
Mariangela Suma
Collette Nunes
Sam Lucas
Henry South
Amy Felce
Neil Roche
James Reid
Benoit Leveau
Marc Joubert-Nederveen
Jason Brown
Stefan Brown
Gavin Platt
William Correia
Joe Tarrant
Nick Webber
Dominic Carus
Luca Zappala
Jan Schubert
Adrian Williams
Bastien Mortelecque
Darren Byford
Turlo Griffin
Simon Wicker
Henning Glabbart
Matias Derkacz
Pedro Andrade
Tomi George
Jay Murray