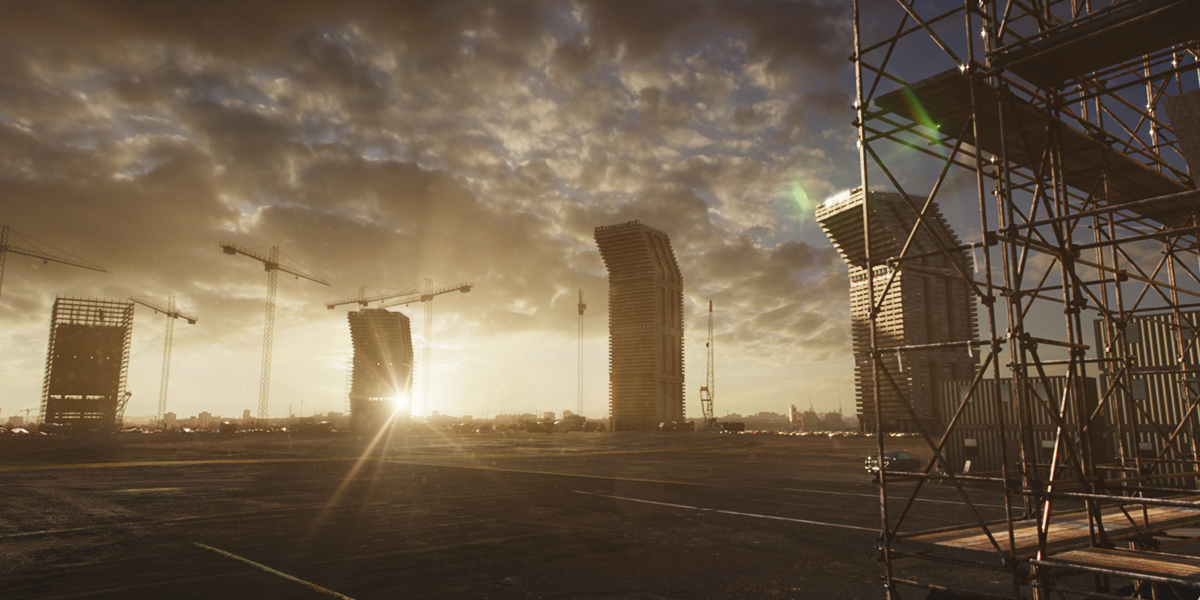 Milk designed and created the visual effects for Ben Wheatley's critically acclaimed feature High-Rise (Recorded Picture Company).
Adapted by Amy Jump from J.G. Ballard's dystopian novel, High-Rise is set in the 1970s, in an ultra-modern high-rise development.
VFX brief –
Milk collaborated with Wheatley to support his vision of a fictional futuristic 1970s look and style.
Milk's brief was to create all the external views of the high-rises and most of their surrounding environment where most of the action takes place including the fabulous penthouse roof gardens. The brief included references to the Barbican with strong emphasis on Brutalist style.
HIGH-RISE ENVIRONMENT
Milk built five CG tower blocks and their surrounding external environment. The towers needed to be arranged in a circular pattern to represent an open hand and fingers, with the lake in the centre of the palm. Wheatley's brief required each tower to be built in the Brutalist style in an individual, asymmetrical shape with an external rendered concrete finish.
Milk's VFX Supervisor Murray Barber worked closely with Wheatley and production designer Mark Tildesley using their concepts and architectural plans to ensure the design and feel was absolutely right.
Four of the towers are still under construction in the film, requiring Milk to design period cranes, trucks, and construction equipment and ensure that the unfinished buildings conveyed the feeling of a construction site and looked fully authentic. For two key flyover shots Milk also built the car park for the inhabited tower and populated it with period CG cars.
Part of Milk's brief was to help convey the concept that the main tower – in which the action takes place – has its own 'character'. When the film begins the tower has a colourful, utopian feel, which gradually becomes increasingly destructive and sinister – as the fabric of the high-rise community breaks down.
Milk achieved this using lighting; the team bathed the main tower in glorious sunlight, bright blue skies and added lens flares at the start of the film. As the film progresses the power in the building begins to fail- and the lights flicker and go out. Milk gradually adjusted the lighting from this point to become darker and added brooding stormy skies to create an overall atmosphere of foreboding and anarchy.
Said Barber: "High-Rise was a hugely enjoyable project; we were thrilled to have the opportunity to work with Ben Wheatley again. We're currently in production on his forthcoming feature Free Fire which is our third collaboration with him."
NUMBER OF SHOTS: 60
SIZE OF CREW: 32
DURATION OF PRODUCTION: 5 months

Director
Ben Wheatley
Producers
Jeremy Thomas
Production Companies
Recorded Picture Company, HanWay Films, Film4, BFI, Northern Ireland Screen, Ingenious Media, Scope Pictures & S Films
Distributor
StudioCanal
Milk VFX Supervisor
Murray Barber
Milk VFX Producer
Jenna Powell
Release Date
13 September 2015
We all made this happen…
This team of amazing people made this happen. Join our lovely community to work on the most exciting projects with our amazing people.
Jenna Powell
Murray Barber
Sara Bennett
Nicolas Hernandez
Sarah Williamson
Collette Nunes
Sam Lucas
Henry South
Neil Roche
Amy Felce
Stefan Brown
Gavin Platt
David Jones
William Correia
Joe Tarrant
Luca Zappala
Darren Byford
Bastien Mortelecque
Dom Alderson
Turlo Griffin
Simon Wicker
Henning Glabbart
Matias Derkacz
Pedro Andrade
Ellie Sutton
Matt McDougal
Theajo Nagarajan
Neil Alford
Tomi George
Jay Murray
Fernando Ferrer
Jenna Powell
Murray Barber
Sara Bennett
Nicolas Hernandez
Sarah Williamson
Collette Nunes
Sam Lucas
Henry South
Neil Roche
Amy Felce
Stefan Brown
Gavin Platt
David Jones
William Correia
Joe Tarrant
Luca Zappala
Darren Byford
Bastien Mortelecque
Dom Alderson
Turlo Griffin
Simon Wicker
Henning Glabbart
Matias Derkacz
Pedro Andrade
Ellie Sutton
Matt McDougal
Theajo Nagarajan
Neil Alford
Tomi George
Jay Murray
Fernando Ferrer
Jenna Powell
Murray Barber
Sara Bennett
Nicolas Hernandez
Sarah Williamson
Collette Nunes
Sam Lucas
Henry South
Neil Roche
Amy Felce
Stefan Brown
Gavin Platt
David Jones
William Correia
Joe Tarrant
Luca Zappala
Darren Byford
Bastien Mortelecque
Dom Alderson
Turlo Griffin
Simon Wicker
Henning Glabbart
Matias Derkacz
Pedro Andrade
Ellie Sutton
Matt McDougal
Theajo Nagarajan
Neil Alford
Tomi George
Jay Murray
Fernando Ferrer
Jenna Powell
Murray Barber
Sara Bennett
Nicolas Hernandez
Sarah Williamson
Collette Nunes
Sam Lucas
Henry South
Neil Roche
Amy Felce
Stefan Brown
Gavin Platt
David Jones
William Correia
Joe Tarrant
Luca Zappala
Darren Byford
Bastien Mortelecque
Dom Alderson
Turlo Griffin
Simon Wicker
Henning Glabbart
Matias Derkacz
Pedro Andrade
Ellie Sutton
Matt McDougal
Theajo Nagarajan
Neil Alford
Tomi George
Jay Murray
Fernando Ferrer
Jenna Powell
Murray Barber
Sara Bennett
Nicolas Hernandez
Sarah Williamson
Collette Nunes
Sam Lucas
Henry South
Neil Roche
Amy Felce
Stefan Brown
Gavin Platt
David Jones
William Correia
Joe Tarrant
Luca Zappala
Darren Byford
Bastien Mortelecque
Dom Alderson
Turlo Griffin
Simon Wicker
Henning Glabbart
Matias Derkacz
Pedro Andrade
Ellie Sutton
Matt McDougal
Theajo Nagarajan
Neil Alford
Tomi George
Jay Murray
Fernando Ferrer