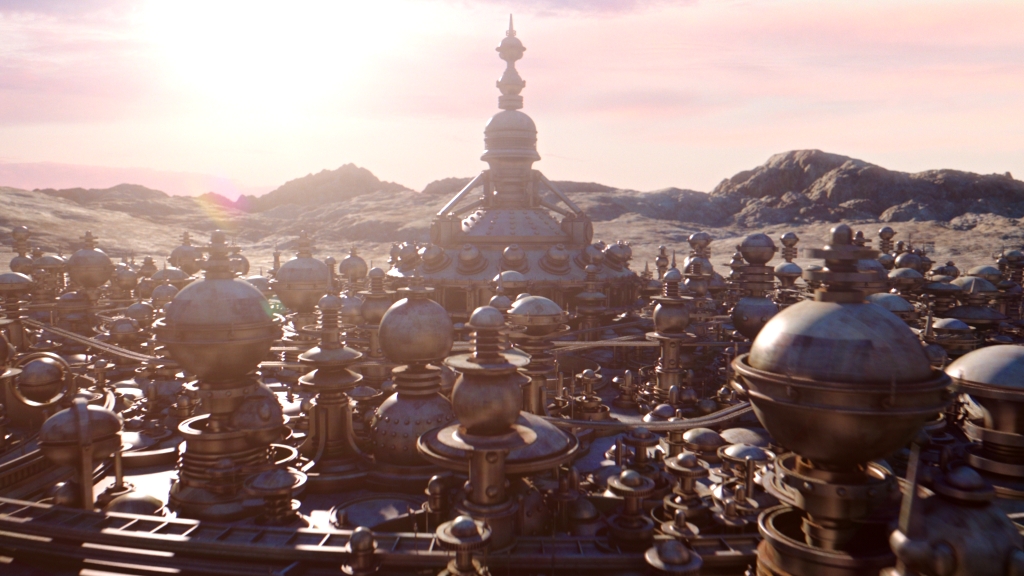 Number of shots: 108
Duration of production: April-July 2015 (4 months)
Key challenges included:
Sarf
Milk was briefed to create a full CG animated albino snake-like character named Sarf. The main challenge was to create a digital take over from the static prosthetic version of Sarf which was filmed on set. Milk then had to animate Sarf's face unravelling, to reveal that he is entirely composed of snakes.
Milk tackled this challenge by photo-scanning the prosthetic Sarf to create an exact match in CG and enable us to seamlessly take over. To create the unravelling effect Milk projected the prosthetic plate on to the matching geometry and animated the snake coils while dissolving from the projected plate to the CG unravelling face.
The snake's body reveal was mainly CG; Milk only kept the background plate. The main snake was animated while the cloak and falling snakes were cloth and fx simulations to show a dramatic mass of writhing snakes.
Milk created the lip sync required for when Sarf speaks. The challenge was to retain Sarf's malevolence and avoid a 'cartoony' look. Milk created a few lip-sync variations to get the look right, which allowed the director, Hettie McDonald, to opt for a subtle but visible look.
Skaro
Milk designed and created a full CG environment to represent Skaro, the Dalek city. We catch a glimpse of the city in episode one.
Milk built the city asset as a 3D asset created in Cinema 4D, which allowed fly over and fly through shots and it was used later to establish Skaro geography. Milk created concept designs based on vintage Doctor Who comics from the 1960s.
Hand mines
Milk created a number of spooky CG hands, each with an eye in its palm. Real hands were filmed on a raised muddied platform, which Milk then had to track accurately in order to add a CG eye to each one. We also added CG hands to augment the number of hands or populate shots where real hands could not be filmed.
Director
Hettie MacDonald
Producers
Steven Moffat, Brian Minchin, Paul Frift, Peter Bennett, Derek Ritchie & Nikki Wilson
Production Companies
BBC
Distributor
BBC
Milk VFX Supervisor
Salvador Zalvidea
Milk VFX Producer
Louise Hastings
Release Date
19 September 2015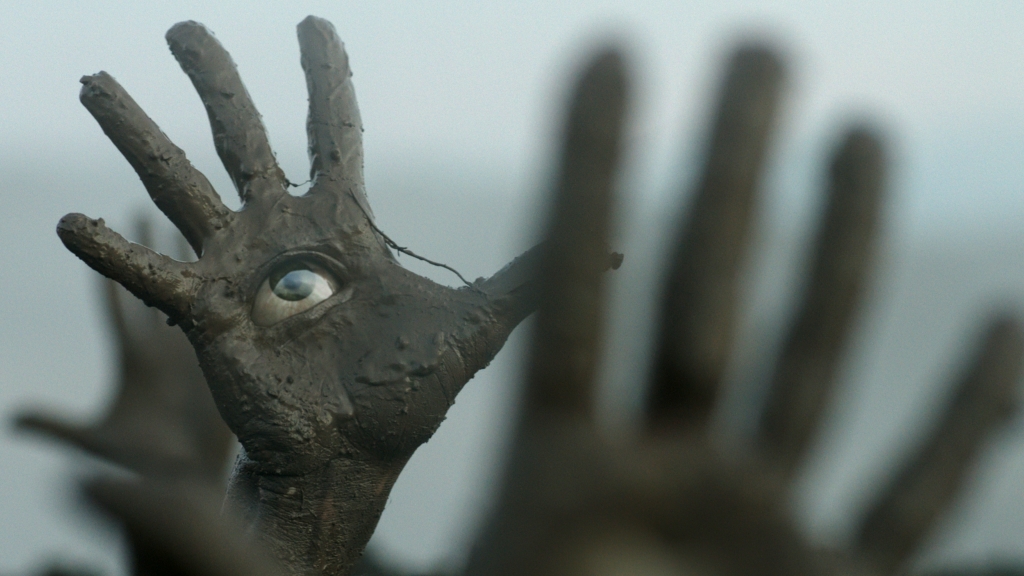 We all made this happen…
This team of amazing people made this happen. Join our lovely community to work on the most exciting projects with our amazing people.
Louise Hastings
Salvador Zalvidea
Pedro Andrade
Darren Byford
Sarah Williamson
Mark Bright
David Jones
Sam Lucas
Neil Roche
Amy Felce
Rachel Ward
James Reid
Simon Wicker
Jason Brown
Gavin Platt
Dominic Carus
Luca Zappala
Bastien Mortelecque
Doug Winder
Frederic Heymans
Luciano Lopes
Myfanwy Harris
Rebecca Clay
Tamsie Thomas
Theajo Nagarajan
Alex Balmer
Jay Murray
Ross Allen
Sarah Iduwe
Daniel Long
Marco Pileri
Matteo Inchingolo
Tomi George
Vasco Cerqueira
Louise Hastings
Salvador Zalvidea
Pedro Andrade
Darren Byford
Sarah Williamson
Mark Bright
David Jones
Sam Lucas
Neil Roche
Amy Felce
Rachel Ward
James Reid
Simon Wicker
Jason Brown
Gavin Platt
Dominic Carus
Luca Zappala
Bastien Mortelecque
Doug Winder
Frederic Heymans
Luciano Lopes
Myfanwy Harris
Rebecca Clay
Tamsie Thomas
Theajo Nagarajan
Alex Balmer
Jay Murray
Ross Allen
Sarah Iduwe
Daniel Long
Marco Pileri
Matteo Inchingolo
Tomi George
Vasco Cerqueira
Louise Hastings
Salvador Zalvidea
Pedro Andrade
Darren Byford
Sarah Williamson
Mark Bright
David Jones
Sam Lucas
Neil Roche
Amy Felce
Rachel Ward
James Reid
Simon Wicker
Jason Brown
Gavin Platt
Dominic Carus
Luca Zappala
Bastien Mortelecque
Doug Winder
Frederic Heymans
Luciano Lopes
Myfanwy Harris
Rebecca Clay
Tamsie Thomas
Theajo Nagarajan
Alex Balmer
Jay Murray
Ross Allen
Sarah Iduwe
Daniel Long
Marco Pileri
Matteo Inchingolo
Tomi George
Vasco Cerqueira
Louise Hastings
Salvador Zalvidea
Pedro Andrade
Darren Byford
Sarah Williamson
Mark Bright
David Jones
Sam Lucas
Neil Roche
Amy Felce
Rachel Ward
James Reid
Simon Wicker
Jason Brown
Gavin Platt
Dominic Carus
Luca Zappala
Bastien Mortelecque
Doug Winder
Frederic Heymans
Luciano Lopes
Myfanwy Harris
Rebecca Clay
Tamsie Thomas
Theajo Nagarajan
Alex Balmer
Jay Murray
Ross Allen
Sarah Iduwe
Daniel Long
Marco Pileri
Matteo Inchingolo
Tomi George
Vasco Cerqueira
Louise Hastings
Salvador Zalvidea
Pedro Andrade
Darren Byford
Sarah Williamson
Mark Bright
David Jones
Sam Lucas
Neil Roche
Amy Felce
Rachel Ward
James Reid
Simon Wicker
Jason Brown
Gavin Platt
Dominic Carus
Luca Zappala
Bastien Mortelecque
Doug Winder
Frederic Heymans
Luciano Lopes
Myfanwy Harris
Rebecca Clay
Tamsie Thomas
Theajo Nagarajan
Alex Balmer
Jay Murray
Ross Allen
Sarah Iduwe
Daniel Long
Marco Pileri
Matteo Inchingolo
Tomi George
Vasco Cerqueira