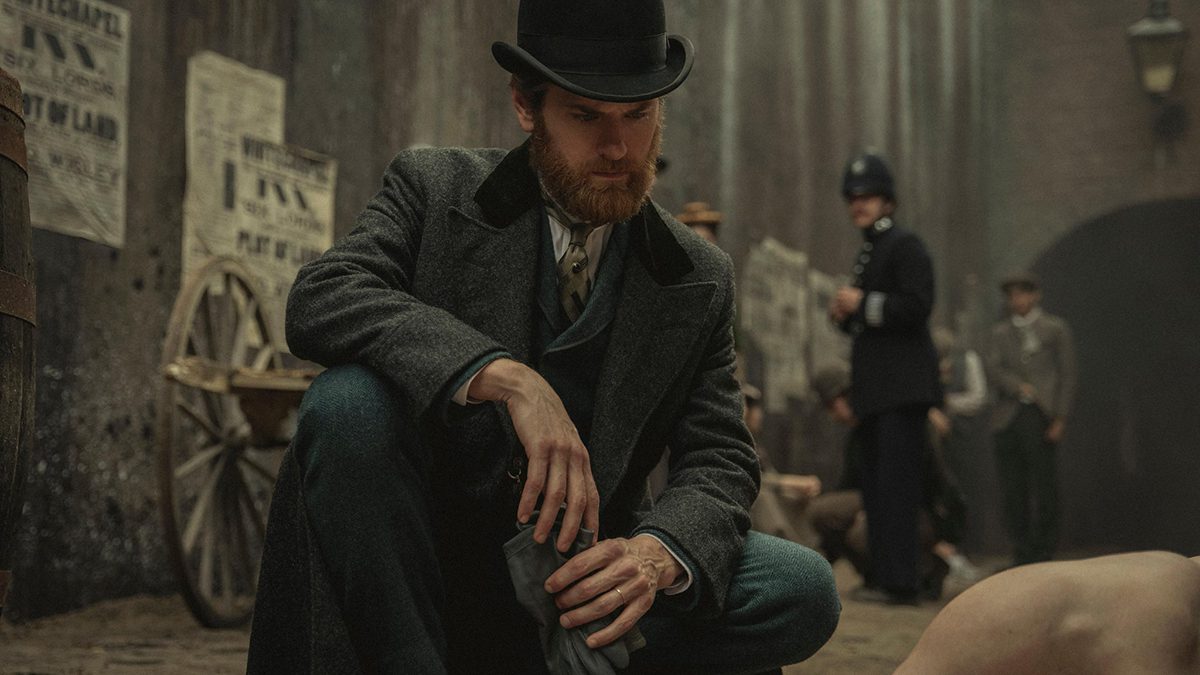 Milk worked on the upcoming crime thriller series Bodies created for Netflix by Paul Tomalin.
Director
Marco Kreuzpainter
Producers
Paul Tomalin, Marco Kreuzpaintner, Will Gould & Frith Tiplady
Production Company
Moonage Pictures
Distributor
Netflix
Milk VFX Supervisor
David Sadler-Coppard
Milk VFX Producer
Chaya Feiner
Release Date
19 October 2023
We all made this happen…
This team of amazing people made this happen. Join our lovely community to work on the most exciting projects with our amazing people.
Aaron Vincent-Powell
Adam Jackson
Agnes Joel Paguyo
Alexandros Papasozomenos
Alice Pott
Andres Talegon
Andres Tollar
Arslan Abdusalyamov
Baptiste Audouin
Ben Thomas
Bradley Black
Cassio Homa
Charles-Henri Vidaud
Chaya Feiner
Chris Ioannou
Connor Guyler
Craig Gemmill
Damir Martin
Dave Early
Davide Pitarella
David Jones
David Sadler-Coppard
Delphine Buratti
Dimitris Lekanis
Doug Winder
Eirimas Jaskinas
Ewan Palmer
Fabian C.R Peters
Garrett Wilson
Giovanni Simonato
Greg Baldock
Hong Yung
Honor Martin
Hope McAdams
Igor Fiorentini
Ion Sbeltza
Jake Flint
James Benson
James Fleming
Joao Calisto
John Cooper
Jonathan Miller
Joseph Courtis
Jude Waugh
Liam Paton
Luka Leskovsek
Lukas Povilonis
Mark Ardisson
Matias Derkacz
Matt Bell
Mike Connolly
Milena Hristova
Miranda Kay
Miyuki Tatsuda
Natalie Lacey
Neil Roche
Nick Feldman
Oliver Goater
Paul Edwards
Peter Brown Griffiths
Pip Denyer
Rachel Hopson
Ritchie Hoyle
Robert Gittings
Russell Horth
Simon Wicker
Stephane Ranaldi
Tom Lempert
Vincenzo Meola
William Pryor
Aaron Vincent-Powell
Adam Jackson
Agnes Joel Paguyo
Alexandros Papasozomenos
Alice Pott
Andres Talegon
Andres Tollar
Arslan Abdusalyamov
Baptiste Audouin
Ben Thomas
Bradley Black
Cassio Homa
Charles-Henri Vidaud
Chaya Feiner
Chris Ioannou
Connor Guyler
Craig Gemmill
Damir Martin
Dave Early
Davide Pitarella
David Jones
David Sadler-Coppard
Delphine Buratti
Dimitris Lekanis
Doug Winder
Eirimas Jaskinas
Ewan Palmer
Fabian C.R Peters
Garrett Wilson
Giovanni Simonato
Greg Baldock
Hong Yung
Honor Martin
Hope McAdams
Igor Fiorentini
Ion Sbeltza
Jake Flint
James Benson
James Fleming
Joao Calisto
John Cooper
Jonathan Miller
Joseph Courtis
Jude Waugh
Liam Paton
Luka Leskovsek
Lukas Povilonis
Mark Ardisson
Matias Derkacz
Matt Bell
Mike Connolly
Milena Hristova
Miranda Kay
Miyuki Tatsuda
Natalie Lacey
Neil Roche
Nick Feldman
Oliver Goater
Paul Edwards
Peter Brown Griffiths
Pip Denyer
Rachel Hopson
Ritchie Hoyle
Robert Gittings
Russell Horth
Simon Wicker
Stephane Ranaldi
Tom Lempert
Vincenzo Meola
William Pryor
Aaron Vincent-Powell
Adam Jackson
Agnes Joel Paguyo
Alexandros Papasozomenos
Alice Pott
Andres Talegon
Andres Tollar
Arslan Abdusalyamov
Baptiste Audouin
Ben Thomas
Bradley Black
Cassio Homa
Charles-Henri Vidaud
Chaya Feiner
Chris Ioannou
Connor Guyler
Craig Gemmill
Damir Martin
Dave Early
Davide Pitarella
David Jones
David Sadler-Coppard
Delphine Buratti
Dimitris Lekanis
Doug Winder
Eirimas Jaskinas
Ewan Palmer
Fabian C.R Peters
Garrett Wilson
Giovanni Simonato
Greg Baldock
Hong Yung
Honor Martin
Hope McAdams
Igor Fiorentini
Ion Sbeltza
Jake Flint
James Benson
James Fleming
Joao Calisto
John Cooper
Jonathan Miller
Joseph Courtis
Jude Waugh
Liam Paton
Luka Leskovsek
Lukas Povilonis
Mark Ardisson
Matias Derkacz
Matt Bell
Mike Connolly
Milena Hristova
Miranda Kay
Miyuki Tatsuda
Natalie Lacey
Neil Roche
Nick Feldman
Oliver Goater
Paul Edwards
Peter Brown Griffiths
Pip Denyer
Rachel Hopson
Ritchie Hoyle
Robert Gittings
Russell Horth
Simon Wicker
Stephane Ranaldi
Tom Lempert
Vincenzo Meola
William Pryor
Aaron Vincent-Powell
Adam Jackson
Agnes Joel Paguyo
Alexandros Papasozomenos
Alice Pott
Andres Talegon
Andres Tollar
Arslan Abdusalyamov
Baptiste Audouin
Ben Thomas
Bradley Black
Cassio Homa
Charles-Henri Vidaud
Chaya Feiner
Chris Ioannou
Connor Guyler
Craig Gemmill
Damir Martin
Dave Early
Davide Pitarella
David Jones
David Sadler-Coppard
Delphine Buratti
Dimitris Lekanis
Doug Winder
Eirimas Jaskinas
Ewan Palmer
Fabian C.R Peters
Garrett Wilson
Giovanni Simonato
Greg Baldock
Hong Yung
Honor Martin
Hope McAdams
Igor Fiorentini
Ion Sbeltza
Jake Flint
James Benson
James Fleming
Joao Calisto
John Cooper
Jonathan Miller
Joseph Courtis
Jude Waugh
Liam Paton
Luka Leskovsek
Lukas Povilonis
Mark Ardisson
Matias Derkacz
Matt Bell
Mike Connolly
Milena Hristova
Miranda Kay
Miyuki Tatsuda
Natalie Lacey
Neil Roche
Nick Feldman
Oliver Goater
Paul Edwards
Peter Brown Griffiths
Pip Denyer
Rachel Hopson
Ritchie Hoyle
Robert Gittings
Russell Horth
Simon Wicker
Stephane Ranaldi
Tom Lempert
Vincenzo Meola
William Pryor
Aaron Vincent-Powell
Adam Jackson
Agnes Joel Paguyo
Alexandros Papasozomenos
Alice Pott
Andres Talegon
Andres Tollar
Arslan Abdusalyamov
Baptiste Audouin
Ben Thomas
Bradley Black
Cassio Homa
Charles-Henri Vidaud
Chaya Feiner
Chris Ioannou
Connor Guyler
Craig Gemmill
Damir Martin
Dave Early
Davide Pitarella
David Jones
David Sadler-Coppard
Delphine Buratti
Dimitris Lekanis
Doug Winder
Eirimas Jaskinas
Ewan Palmer
Fabian C.R Peters
Garrett Wilson
Giovanni Simonato
Greg Baldock
Hong Yung
Honor Martin
Hope McAdams
Igor Fiorentini
Ion Sbeltza
Jake Flint
James Benson
James Fleming
Joao Calisto
John Cooper
Jonathan Miller
Joseph Courtis
Jude Waugh
Liam Paton
Luka Leskovsek
Lukas Povilonis
Mark Ardisson
Matias Derkacz
Matt Bell
Mike Connolly
Milena Hristova
Miranda Kay
Miyuki Tatsuda
Natalie Lacey
Neil Roche
Nick Feldman
Oliver Goater
Paul Edwards
Peter Brown Griffiths
Pip Denyer
Rachel Hopson
Ritchie Hoyle
Robert Gittings
Russell Horth
Simon Wicker
Stephane Ranaldi
Tom Lempert
Vincenzo Meola
William Pryor