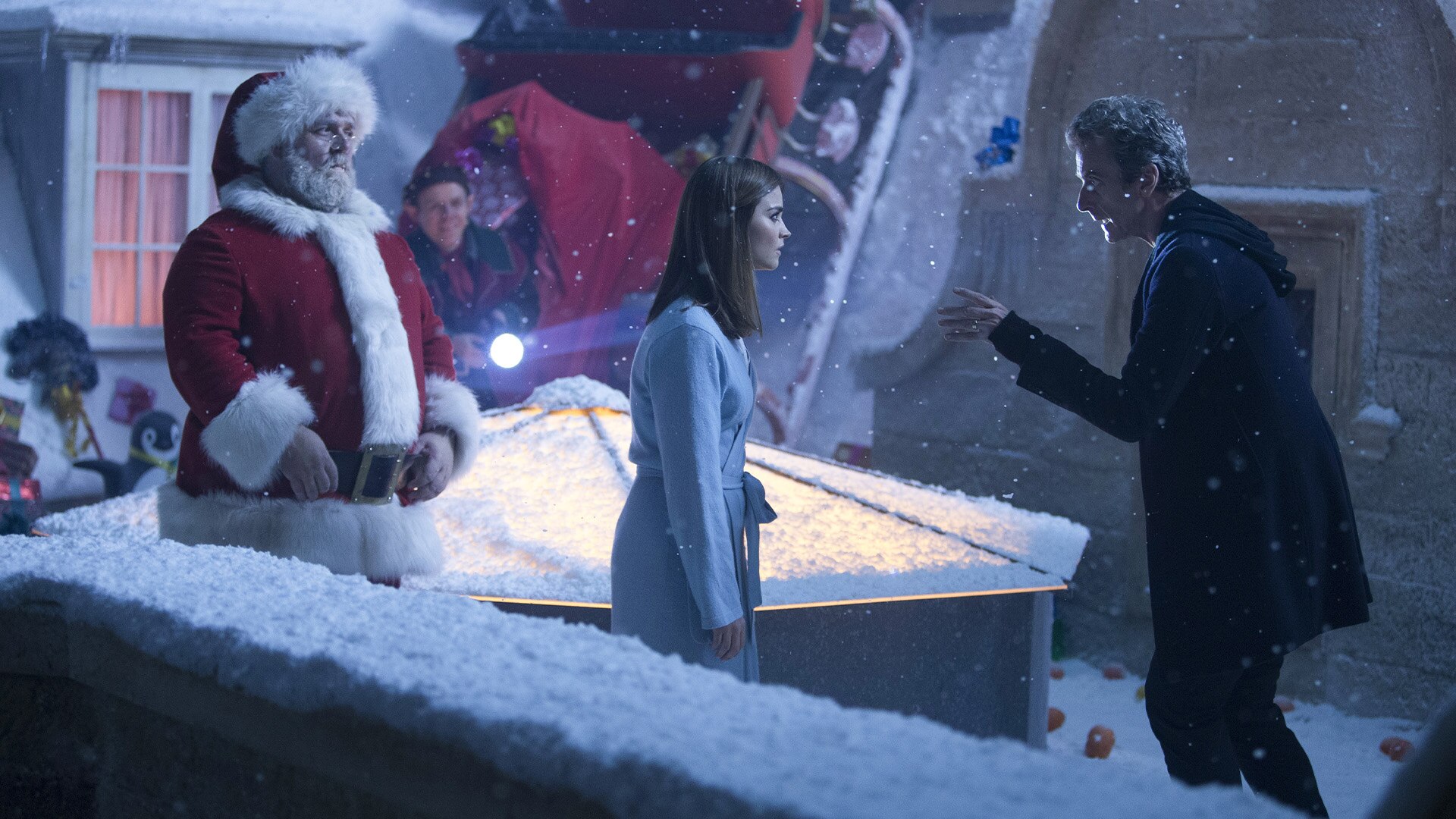 Milk created the visual effects for the BBC's 1 hour Doctor Who Christmas Special: Last Christmas, which aired on Christmas Day 2014. The work (61 shots) included: CG reindeer, CG sleigh, digi-double actors on Santa's sleigh; environments including – an epic helicopter shot flying over a CG polar landscape with effects: falling snow, mist and northern lights; CG 'Dream Crabs' and the disintegration of the Dream Crabs. An accurate, realistic CG London cityscape viewed from the air as Santa's sleigh travelled through it; while ensuring there was a magical feel to the whole sleigh sequence.
The main challenge was the Santa's sleigh sequence as it involved actorsshot on a green screen, CG reindeer and CG backgrounds. Delivering almost 30 sleigh sequence shots, all of which were shot on green screen meant there was a lot of green spill on Santa's white fur trim to clean up and complicated keys due to hair blowing in the wind. Finally snow, mist and clouds were added in – while maintaining continuity throughout the sequence.
The Milk team then recreated a geographically accurate 3D model of central London, with long render times, all overseen by Darren Byford. The overarching challenge was achieving all of this within 5 weeks! CG Reindeer- Achieving realistic and complex animation of the three reindeer in a short space of time. Particularly getting the animation of the bucking Rudolf to work with the plate of Nick Frost on the rocking horse on set. This required accurate matchmove by Milk's David Jones and Robert Nzengou-Tayo to support the animation. Milk's Dave Bennett oversaw the animation of the reindeer, while Dom Alderson created their look development and grooming. The Polar landscape establishing, opening shot was also challenging as it involved blending (using cinema 4D) from 3D dmp into the polar base plate shot in studio and projected on matching geometry from photo scan. This was achieved by Milk's Simon Wicker.
Kit/software used: Nuke, Houdini, Maya with Yeti for fur grooming, rendering in Arnold. Photoscan, Cinema 4D and Photoshop.
Director
Paul Wilmshurst
Producers
Paul Frift, Steven Moffat & Brian Minchin
Production Company
BBC Cymru Wales
Distributor
BBC
Milk VFX Supervisor
Salvador Zalvidea
Milk VFX Producer
Louise Hastings
Release Date
25 December 2014
We all made this happen…
This team of amazing people made this happen. Join our lovely community to work on the most exciting projects with our amazing people.
Louise Hastings
Salvador Zalvidea
Pedro Andrade
Darren Byford
Mariangela Suma
Mark Bright
Sam Lucas
Neil Roche
Amy Felce
David Bennett
James Reid
Simon Wicker
Jason Brown
Stefan Brown
Marc O-Kane
Will Pryor
David Jones
Gavin Platt
Dan Horne
Sonia Wakefield-Ioannou
Ruth Bailey
Joe Tarrant
Toby Winder
Howard Margolius
Muzaffer Korkut
Dominic Carus
Nick Webber
Tavis Roberts
Jamie Stewart
Dom Alderson
Christoph Unger
Aurore de Blois
Jorge Oliva
Alvaro Cajal
Frederic Heymans
James Moxon
Theajo Nagarajan
Alex Balmer
Peter Dudley
Elisa Simoncelli
Kenn Kalvik
Tomi George
Chris West
Jay Murray
Louise Hastings
Salvador Zalvidea
Pedro Andrade
Darren Byford
Mariangela Suma
Mark Bright
Sam Lucas
Neil Roche
Amy Felce
David Bennett
James Reid
Simon Wicker
Jason Brown
Stefan Brown
Marc O-Kane
Will Pryor
David Jones
Gavin Platt
Dan Horne
Sonia Wakefield-Ioannou
Ruth Bailey
Joe Tarrant
Toby Winder
Howard Margolius
Muzaffer Korkut
Dominic Carus
Nick Webber
Tavis Roberts
Jamie Stewart
Dom Alderson
Christoph Unger
Aurore de Blois
Jorge Oliva
Alvaro Cajal
Frederic Heymans
James Moxon
Theajo Nagarajan
Alex Balmer
Peter Dudley
Elisa Simoncelli
Kenn Kalvik
Tomi George
Chris West
Jay Murray
Louise Hastings
Salvador Zalvidea
Pedro Andrade
Darren Byford
Mariangela Suma
Mark Bright
Sam Lucas
Neil Roche
Amy Felce
David Bennett
James Reid
Simon Wicker
Jason Brown
Stefan Brown
Marc O-Kane
Will Pryor
David Jones
Gavin Platt
Dan Horne
Sonia Wakefield-Ioannou
Ruth Bailey
Joe Tarrant
Toby Winder
Howard Margolius
Muzaffer Korkut
Dominic Carus
Nick Webber
Tavis Roberts
Jamie Stewart
Dom Alderson
Christoph Unger
Aurore de Blois
Jorge Oliva
Alvaro Cajal
Frederic Heymans
James Moxon
Theajo Nagarajan
Alex Balmer
Peter Dudley
Elisa Simoncelli
Kenn Kalvik
Tomi George
Chris West
Jay Murray
Louise Hastings
Salvador Zalvidea
Pedro Andrade
Darren Byford
Mariangela Suma
Mark Bright
Sam Lucas
Neil Roche
Amy Felce
David Bennett
James Reid
Simon Wicker
Jason Brown
Stefan Brown
Marc O-Kane
Will Pryor
David Jones
Gavin Platt
Dan Horne
Sonia Wakefield-Ioannou
Ruth Bailey
Joe Tarrant
Toby Winder
Howard Margolius
Muzaffer Korkut
Dominic Carus
Nick Webber
Tavis Roberts
Jamie Stewart
Dom Alderson
Christoph Unger
Aurore de Blois
Jorge Oliva
Alvaro Cajal
Frederic Heymans
James Moxon
Theajo Nagarajan
Alex Balmer
Peter Dudley
Elisa Simoncelli
Kenn Kalvik
Tomi George
Chris West
Jay Murray
Louise Hastings
Salvador Zalvidea
Pedro Andrade
Darren Byford
Mariangela Suma
Mark Bright
Sam Lucas
Neil Roche
Amy Felce
David Bennett
James Reid
Simon Wicker
Jason Brown
Stefan Brown
Marc O-Kane
Will Pryor
David Jones
Gavin Platt
Dan Horne
Sonia Wakefield-Ioannou
Ruth Bailey
Joe Tarrant
Toby Winder
Howard Margolius
Muzaffer Korkut
Dominic Carus
Nick Webber
Tavis Roberts
Jamie Stewart
Dom Alderson
Christoph Unger
Aurore de Blois
Jorge Oliva
Alvaro Cajal
Frederic Heymans
James Moxon
Theajo Nagarajan
Alex Balmer
Peter Dudley
Elisa Simoncelli
Kenn Kalvik
Tomi George
Chris West
Jay Murray