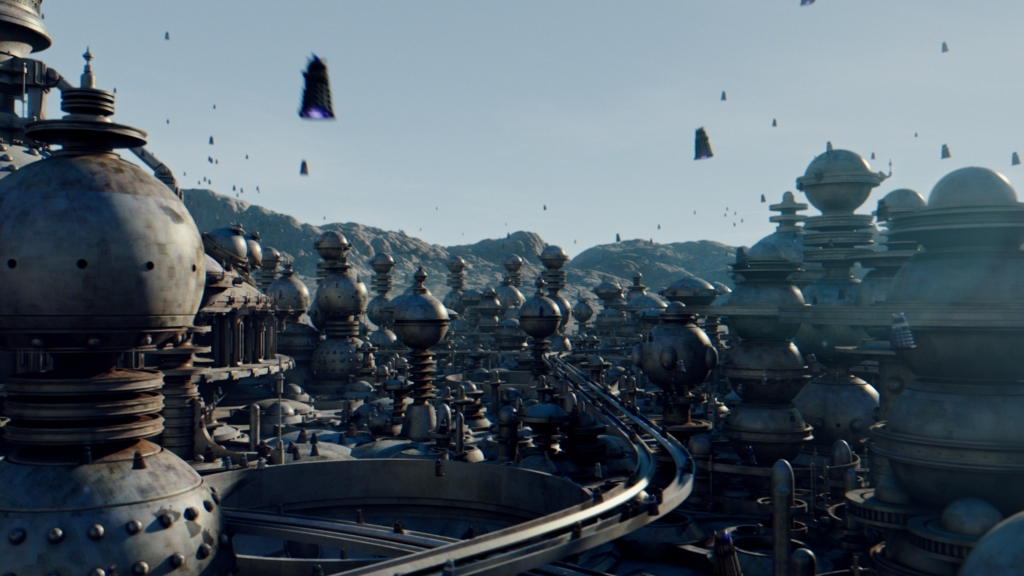 Number of shots: 90
Duration of production: May-July 2015 (3 months)
Key challenges included:
Skaro
Milk designed and created a full CG environment to represent the Dalek city on the planet Skaro. Milk built the city asset as a 3D asset created in Cinema 4D, which allowed fly over and fly through shots and it was used later to establish Skaro geography. Milk created concept designs based on vintage Doctor Who comics from the 1960s.
The Director
Hettie McDonald wanted to achieve a realistic feel so that the audience imagined they were in the city. Milk populated the Dalek city environment with Daleks flying, moving around and interacting with each other and the environment. This was achieved by setting up a particle simulation with basic rules and behaviour patterns and then instancing detailed Dalek geometry onto the points at render time.
The Milk compositing team then integrated the Dalek city into the live action plates shot on location in Tenerife.
The Doctor attacked by snakes
Milk created full CG snakes that attack the Doctor, coiling around his body to restrain him. We needed to obtain a very accurate body track of Peter Capaldi's movements as he tries to resist them. Milk hand animated some "hero" snakes – to work with Capaldi's movements – in key areas with the main mass being dealt with as a simulation based task. This was done by flowing particles across the surface of the body track to produce curves that controlled the high-resolution snake geometry.
Director
Hettie MacDonald
Producers
Steven Moffat, Brian Minchin, Paul Frift, Peter Bennett, Derek Ritchie & Nikki Wilson
Production Companies
BBC
Distributor
BBC
Milk VFX Supervisor
Salvador Zalvidea
Milk VFX Producer
Louise Hastings
Release Date
26 September 2015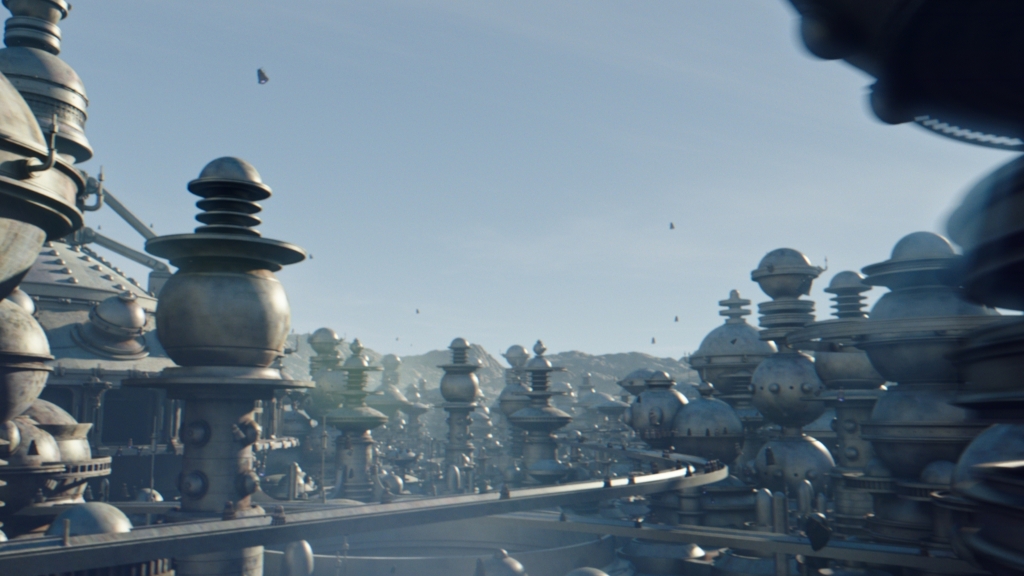 We all made this happen…
This team of amazing people made this happen. Join our lovely community to work on the most exciting projects with our amazing people.
Louise Hastings
Salvador Zalvidea
Pedro Andrade
Darren Byford
Sarah Williamson
Mark Bright
David Jones
Sam Lucas
Neil Roche
Amy Felce
Rachel Ward
James Reid
Simon Wicker
Jason Brown
Gavin Platt
Dominic Carus
Luca Zappala
Bastien Mortelecque
Doug Winder
Frederic Heymans
Luciano Lopes
Myfanwy Harris
Rebecca Clay
Tamsie Thomas
Theajo Nagarajan
Alex Balmer
Jay Murray
Ross Allen
Sarah Iduwe
Daniel Long
Marco Pileri
Matteo Inchingolo
Tomi George
Vasco Cerqueira
Louise Hastings
Salvador Zalvidea
Pedro Andrade
Darren Byford
Sarah Williamson
Mark Bright
David Jones
Sam Lucas
Neil Roche
Amy Felce
Rachel Ward
James Reid
Simon Wicker
Jason Brown
Gavin Platt
Dominic Carus
Luca Zappala
Bastien Mortelecque
Doug Winder
Frederic Heymans
Luciano Lopes
Myfanwy Harris
Rebecca Clay
Tamsie Thomas
Theajo Nagarajan
Alex Balmer
Jay Murray
Ross Allen
Sarah Iduwe
Daniel Long
Marco Pileri
Matteo Inchingolo
Tomi George
Vasco Cerqueira
Louise Hastings
Salvador Zalvidea
Pedro Andrade
Darren Byford
Sarah Williamson
Mark Bright
David Jones
Sam Lucas
Neil Roche
Amy Felce
Rachel Ward
James Reid
Simon Wicker
Jason Brown
Gavin Platt
Dominic Carus
Luca Zappala
Bastien Mortelecque
Doug Winder
Frederic Heymans
Luciano Lopes
Myfanwy Harris
Rebecca Clay
Tamsie Thomas
Theajo Nagarajan
Alex Balmer
Jay Murray
Ross Allen
Sarah Iduwe
Daniel Long
Marco Pileri
Matteo Inchingolo
Tomi George
Vasco Cerqueira
Louise Hastings
Salvador Zalvidea
Pedro Andrade
Darren Byford
Sarah Williamson
Mark Bright
David Jones
Sam Lucas
Neil Roche
Amy Felce
Rachel Ward
James Reid
Simon Wicker
Jason Brown
Gavin Platt
Dominic Carus
Luca Zappala
Bastien Mortelecque
Doug Winder
Frederic Heymans
Luciano Lopes
Myfanwy Harris
Rebecca Clay
Tamsie Thomas
Theajo Nagarajan
Alex Balmer
Jay Murray
Ross Allen
Sarah Iduwe
Daniel Long
Marco Pileri
Matteo Inchingolo
Tomi George
Vasco Cerqueira
Louise Hastings
Salvador Zalvidea
Pedro Andrade
Darren Byford
Sarah Williamson
Mark Bright
David Jones
Sam Lucas
Neil Roche
Amy Felce
Rachel Ward
James Reid
Simon Wicker
Jason Brown
Gavin Platt
Dominic Carus
Luca Zappala
Bastien Mortelecque
Doug Winder
Frederic Heymans
Luciano Lopes
Myfanwy Harris
Rebecca Clay
Tamsie Thomas
Theajo Nagarajan
Alex Balmer
Jay Murray
Ross Allen
Sarah Iduwe
Daniel Long
Marco Pileri
Matteo Inchingolo
Tomi George
Vasco Cerqueira